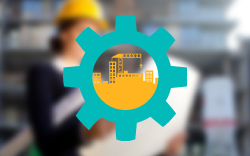 Vouzounerakis
For several years now, the technical-design office has been successfully covering the market need for consulting support with specialized know-how, with the aim of developing a business, and at the same time managing subsidized programs for its benefit.
In addition, the executives of the office are certified members:
of the National Register of Assessors of the Ministry of Development, the evaluators of the Information Society SA, the register of evaluators EFEPAE (for Development Crete) and the register of evaluators of the European Erasmus + Program (education and training sectors)
of the Small Business Institute of GSEVEE, in the field of business consulting
Dangerous Goods Transport Advisors - ADR
Professionally qualified Transport Managers for the Road Transport of Goods of the Ministry of Transport & Communications
of the Register of Mechanical Engineers for Special Purpose Vehicles - Special Purpose of the Vehicle Technology Directorate of the Ministry of Infrastructure & Transport
and maintains a Quality Management System according to the ISO 9001: 2015 standard, which contributes to the improvement of the office services provided, to the understanding and satisfaction of the requirements of each client, to the increase of the efficiency and effectiveness of the offered services, to the identification of risks but also in preventing and preventing non-compliances.
At the same time, collaborations are maintained with specialized associates, Engineers of various specialties, Agronomists, Economists, etc., in order to provide comprehensive services related to subsidized programs, quality management systems, health and safety issues at work, etc.
The main goal of the office is to create a relationship of trust with its customers and to consolidate it in the field of business planning and development. This website was created with the aim of providing the right information on business issues and will be sent informative newsletters with the latest developments and business news, so that you can follow the flow of events and be informed about what interests you.
We will always be at your disposal to evaluate your business idea and if there are clear signs of viability, we will suggest the next steps for the development of your business, in combination with the corresponding subsidized program.
Our financial-technical knowledge and experience are the best guarantee for you and will help you to direct your business in the constantly changing economic environment.
Offered services:

Business Consulting - Business & Marketing Plans
Studies of European Programs (NSRF)
ISO Quality Management Systems
Security technician
Type Studies & Approvals of Construction Machinery & Special Purpose Vehicles - Special Purpose
Technical consultant for expertise & transportation
Support for Electronic Public Tenders
Clients of our office:

ERGOBETON Ε.Π.Ε.
ΜΙΧΑΗΛ Ι. ΣΤΑΓΑΚΗ Α.Ε.Β.Ε.
ΡΕΘΥΜΝΙΩΤΙΚΗ ΤΟΥΒΛΟΠΟΙΙΑ Α.Ε.
ΒΙΒΛΙΟΠΩΛΕΙΟ BOOKALI
EUROPEAN SUSTAINABILITY ACADEMY (ESA)
PENSION CASTELLO
ΛΑΤΖΙΜΑΣ Α.Ε.
EKO CRETA GAS
DATAexpert
ΑΡΤΟΠΟΙΕΙΟ ΚΟΝΤΑΞΑΚΗΣ
ΑΛΟΥΜΙΝΟΚΑΤΑΣΚΕΥΕΣ ΧΑΤΖΗΣΕΒΑΣΤΟΣ
ΣΥΝΕΡΓΕΙΟ ΟΧΗΜΑΤΩΝ ΜΠΑΡΑΔΑΚΗΣ Κ. ΤΖΑΓΚΑΡΑΚΗΣ Π. Ο.Ε.
ΜΕΤΑΛΛΙΚΕΣ ΚΑΤΑΣΚΕΥΕΣ ΓΕΩΡΓΙΟΣ ΔΙΟΜΑΝΤΑΡΑΚΗΣ ΚΑΙ ΥΙΟΙ Ο.Ε.
ΑΝΤΑΛΛΑΚΤΙΚΑ ΟΧΗΜΑΤΩΝ ΚΛΗΡΟΝΟΜΟΙ ΓΕΩΡΓΙΟΥ ΠΡΟΒΙΑ
ΦΑΝΟΠΟΙΕΙΟ ΦΡΑΓΚΙΑΔΑΚΗΣ ΚΩΝ. ΓΕΩΡΓΙΟΣ
ΣΥΝΕΡΓΕΙΟ ΦΡΕΝΩΝ ΦΡΑΓΚΙΑΔΑΚΗΣ ΣΤΥΛΙΑΝΟΣ
ΕΜΠΟΡΙΑ ΕΛΑΣΤΙΚΩΝ ΨΙΣΤΑΚΗΣ ΑΡ. & ΣΙΑ Ο.Ε.
ΚΟΜΜΩΤΗΡΙΟ MANO D'ORO
ΤΥΠΟΓΡΑΦΕΙΟ ΧΡΟΝΑΚΗ
ΜΗΧΑΝΟΓΡΑΦΗΣΗ ΕΠΙΧΕΙΡΗΣΕΩΝ NET A.E.
ΤΑΛΩΣ ΙΜΕ ΕΠΕ
ΠΡΟΜΗΘΕΥΤΙΚΗ ΜΕΤΑΛΛΩΝ ΚΡΗΤΗΣ Α.Ε.Β.Ε.
Α. & Η. ΤΖΑΓΚΑΡΑΚΗΣ Α.Β.Ε.Ε.
ΕΚΠΟΛΙΤΙΣΤΙΚΟΣ ΣΥΛΛΟΓΟΣ ΠΑΝΤΑΝΑΣΣΑΣ ΑΜΑΡΙΟΥ
ΟΙΝΟΠΟΙΕΙΟ ΚΟΥΡΚΟΥΛΟΥ
ΕΣΤΙΑΤΟΡΙΟ ΛΕΜΟΝΟΚΗΠΟΣ
ΚΑΦΕΚΟΠΤΕΙΟ BREW YOUR MIND
ΓΡΑΦΟΤΕΧΝΙΚΗ ΚΡΗΤΗΣ Α.Ε.Ε.
ΥΠΗΡΕΣΙΕΣ ΚΑΘΑΡΙΟΤΗΤΑΣ FACILITY EXPERTS ΙΚΕ
Ο.Α.Ε.Δ.